Pang-asar na Banat and Sarcastic Pick-Up Lines is another compilation of sarcastic quotes and pick-up lines that will either piss you off or make you laugh. You may have been thinking of words to use as an understatement to express your disgust and annoyance with someone or something. Sarcasm is a way of saying something in which what is said is the opposite of what is meant. It can be used in different ways – either to express everything from anger to humor.
Pick from our featured selection of Pang-asar na Banat and Sarcastic Pick-Up Lines that you can share with you friends and see how these really work :
MRT
(sa mrt ****! may mga tao dun kasi na mahilig manghawak ng kamay…)
Girl Banat: pwede next time, bago ka manghawak ng kamay,
mag-lotion ka muna. puro kalyo at matigas eh!
Make Up
(girl to girl asaran sa ladies room)
Friend Girl: (nagmamake-up) ba't inde ka nagme-make up?
Girl Banat: eh para sa pangit lang ang make up noh!
Parang Tao
(After my friend was critized for doing something stupid, my other friend bu+Ts in)
"wag kayong ganyan, nasasaktan din yan, PARANG TAO RIN YAN"
Lasa
(A cold breeze during a drinking session)
Friend Girl: Wow, sarap ng hangin!
Girl Banat: Oo, nga no! Ano lasa?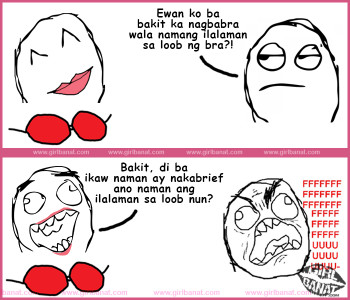 Disappointed
(After Sex)
Boy Banat: That was so good.
Girl Banat: Buti ka pa natuwa.XD
Ice Cream
Friend: (eating ice cream) LAMIIIIG!
Girl Banat: Magtaka ka kung mainit.
(In a high school reunion..)
Friend: "ay mataba ka pa din!"
Girl Banat: "oo nga eh, eh ikaw? baog ka pa din? oops! sorry.."
(After ng sembreak)
Classmate: Uuuyyyy…. Namiss kita!
Girl Banat: Namiss din kita.
Classmate: Parang tumaba ka 'ata. Nagsembreak lang eh!
Girl Banat: Ah ganon ba? Ikaw, Lalo kang pumangit. Nagsembreak lang eh!
Tao Lang
Friend: pasensya na tao lang (i hate this expression)
Girl Banat: sino naman nag-tsismis sayo na tao ka?
Loob
(May isang bading at isang tunay na lalake)
Boy Banat:Ewan ko ba bakit ka nagbabra wala namang ilalaman sa loob ng bra!!
Bading: Bakit, di ba ikaw naman ay nakabrief,ano naman ang ilalaman sa loob nun?
(Kami noong mga mapoporma kong barkada habang nakatambay….)
Kapag may dumadaang nag-iisa eh sisigaw ang isa sa amin ng "POGI!"
Then pagtumingin yoong nagdadaan eh sisigawan naman namin nang…
"Letse- KA!
Bat tumitingin ka? Pogi ka ba?"
If you've got your very own Pang-asar na Banat and Sarcastic Pick-Up Lines, you can share it with us. We will be grateful to have it posted here in our website. Have a nice day!