Break-Up Quotes to Mend your Broken Hearts
Breaking up with the person you love is the hardest part in any relationship. Its the time when you have to say goodbye to everything you thought would last forever. You tend to hold on to the memories that you've shared but there's nothing more you could do now. The best you can do is let go and move on with your life. But that's really hard, isn't it? What more painful is you have to start over again like the way it used to be – life before you met that person. Well, you can make it. Just let time heal the wounds so you can be brave enough to love again. If you were able to live many years without that person then you'll be able to live another more years after he/she left you. The world doesn't end there.
Everything happens for a reason and definitely you'll find the person who will never hurt you again. A person who is far different from the one who broke your heart. Learn from your mistakes and stop those what if's and if only's in your mind as reminiscing will just cause you more pain. We have these Tagalog Break-Up Quotes to Mend your Broken Hearts and we hope that this collection can help you suppress the feeling of losing the one you love :
Sabi mo gusto mo ako,
Sabi mo konting panahon na lang magkakasama na tayo,
Sabi mo iiwan mo na siya,
Sabi mo hintayin kita,
Sabi mo mas mahal mo ako, eh ngayon asan ka na?
Bakit kayo pa rin ang magkasama?
♥      ♥      ♥      ♥      ♥      ♥      ♥
Sana tinuruan mo ako kung paano madaling makalimot,
Tulad ginawa mong paglimot sa akin!
♥      ♥      ♥      ♥      ♥      ♥      ♥
Tama na yung minsan mo akong pinaasa
Minsang sinaktan at minsang pinaluha
Minsan mo lang naman din akong minahal;
Hindi tulad ko, Minahal kita ng parang walang katapusan.
♥      ♥      ♥      ♥      ♥      ♥      ♥
Hindi lahat ng sumusuko ay Mahina at Talunan.
May mga bagay at tao lang talaga na dapat ng sukuan,
Para hindi na masaktan!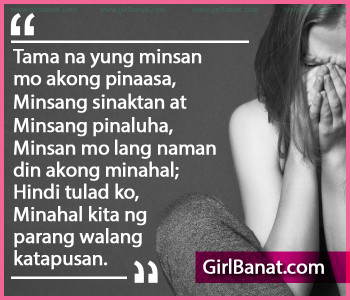 Alam mo yung feeling na masarap ma-inlove?
Masaya kapag nandyan sya,
Pag nakikita mo sya nakukumpleto araw mo
Lalo na pag nginitian ka na nya na para bang puede ka na mamatay
Hayssss.. Tanung ko lang naman, Kelan kaya sila magbre-break?
♥      ♥      ♥      ♥      ♥      ♥      ♥
Kahit ilang beses pa akong masaktan, di ako susuko.
Kahit magkaroon pa ng isandaang dahilan upang ikaw ay aking iwan,
Hahanap parin ako ng isang dahilan
Para ang pagmamahal ko sayo'y ipaglaban!
♥      ♥      ♥      ♥      ♥      ♥      ♥
Kapag sa palagay mo bibigay ka na,
Kapag sa palagay mo hindi mo na kaya,
Kapag sa palagay mo wala ka kasama,
Eto lang masasabi ko… Puro ka "palagay"
sa palagay mo ba iiwan kita? sa palagay ko hindi ko kaya!
♥      ♥      ♥      ♥      ♥      ♥      ♥
Mas masakit ang iniwan ka kaysa ikaw ang nang-iwan.
Bakit kaya pag kaibigan mo walang break-up?
Pero once na naging kau, konting away break na agad!
Hindi ba natin naiisip na kung sa magkaibigan nagkakaintindihan hindi ba dapat sa nagmamahalan?
♥      ♥      ♥      ♥      ♥      ♥      ♥
Kung dumating ang isang araw na iwan ka ng mahal mo,
Pinahiya ka sa pa sa harap ng maraming tao,
At sinabi pa na nyang "Break na tayo"?
Tawanan mo lang sya at sabihin mong
"Close ba tayo? Anong name mo?
Sarap tumawa kahit naiiyak ka na.
Ang sarap mag-joke kahit nahihirapan ka na
Ang sarap mag-saya kahit di mo na kaya
ganyan kapag broken hearted di ba?
Pati sarili mo, Pina plastic mo na!
Share your own Break-Up Quotes with us. We will be happy to have them featured here. Feel free to visit us here at www.girlbanat.com and Girl Banat Official Facebook Page to keep you posted on the latest quotes and articles.