Tagalog Scary Jokes That Will Make You Laugh
Halloween is just around the corner and a lot of us may have been preparing for the trick-or-treats. It's the time of year where people carve pumpkins, decorating, dress up like their favorite horror movie characters, visiting haunted attractions or throw a costume party. Adults and children around the world celebrate this festival. It is observed on October 31, the eve of the All Saints' Day which is believed to be originated in the Europe as an ancient Celtic festival.
Surely, telling scary stories and watching horror films will not be missed out as the Halloween approaches. To make it different, this read is a compilation of Tagalog Scary Jokes That Will Make You Laugh and feel free to share it with your friends and relatives.
Ba-BYE DADDY
Napansin ng Ama na pag tulog ang anak my binibigkas ito:
"Good night Mommy, Daddy, Lola, BYE LOLO"
Kinabukasan, namatay si Lolo!
Pagkalipas ng 1 buwan, binigkas ito:
"Good night Mommy, Daddy, Lola, BYE LOLA"
Kinabukasan, namatay si Lola!
Pagkalipas ng 1 Linggo, binigkas ito:
"Good night Mommy, BYE Daddy"
Kinabahan si Daddy at di nakatulog,
Kinabukasan namatay ang DRIVER!XD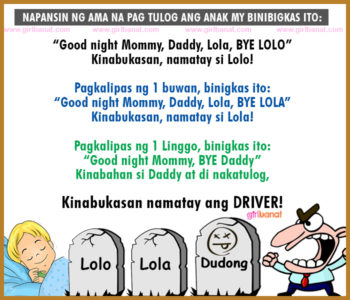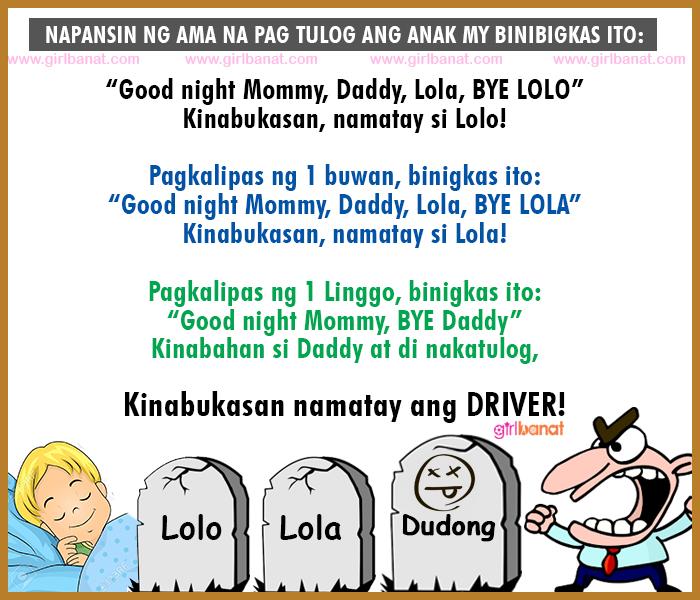 Tinatamad ka bang bumisita sa iyong mga loved ones sa sementeryo?
Text DALAW at i-send sa 1313. Sila mismo ang dadalaw sayo
Here's some choices:
dalaw 1, kung gusto mo nakasilip sa bintana.
dalaw 2, kung gusto mo nakatingin sa yo habang natutulog ka.
dalaw 3, kung gusto mo nakatayo sa iyong paanan.
dalaw 4, kung gusto mo isama kana.
Ano pang hinintay mo? text na!
*     *     *      *     *
PANAGINIP
Madalas ka ba MANAGINIP?
Napapansin mo ba na yung ibang tao sa panginip mo ay di mo kilala?
At alam mo ba na yong mga taong un ay syang multo na nakatingin syo habang napakahimbing ng tulog mo.
*     *     *      *     *
ULAM
Pedro: Juan, Bakit hindi ka inabot ng isang linggo kina pare?
Juan: 1st day ko dun, natalo ang manok niya sa sabong, tinola ang ulam namin.
2nd day, pinatay ang baboy, lechon ang ulam namin.
3rd day, pinatay ang kambing, kaldereta ang ulam namin.
4th day namatay ang lolo ni pare, kaya umuwi na agad ako.
*     *     *      *     *
KAPITBAHAY
Juan: Inay, totoo po bang may multo?
Inay: Juan, kanino mo naman nalaman yan?
Juan: Sa kapitbahay natin.
Inay: anaaakkk.. wala tyong kapitbahay.. XO
Got more spooky yet funny stories to share? Here at www.girlbanat.com, we value your ideas and we will be glad to have them featured here. You can also go to ouR official Facebook page: www.fb.com/AkosiGirlBanat for more quotes and features that you may want to browse.