Inspirational Life Quotes with Meaning
Inspirational Life Quotes with Meaning is a composition of inspirational quotes with meaning about life.
Sometimes you experience that feeling of being down only to find yourself completely lost. But that's the irony of life. More often than not, we seek for inspiration to keep us going and a simple line can motivate a spirit and fuel the heart and encourage to pursue our life's dreams..
Be inspired and share our first extensive collection of Inspirational Life Quotes with Meaning :
"All our dreams can come true – if we have the courage to pursue them."
– Walt Disney
Meaning : For  every dream you should have the courage  to  go after it.
"The best way to predict the future is to invent it."
– Alan Kay
Meaning :  It's not fate that decides our future; If we want to have a better future then we must take the right actions now.
"There are two primary choices in life: to accept conditions as they exist, or accept the responsibility for changing them."
– Denis Waitley
Meaning : In life, it's either you go with the  flow or take the action to change what's  you've  already been doing.
"Life is 10% what happens to me and 90% how I react to it."
– Charles R. Swindoll
Meaning : How you react is more important than what happens to your life.
"What lies behind us and what lies before us are tiny matters compared to what lies within us."
– Henry Stanley Haskins
Meaning : Attitude is far more important than what happened to your past or what will be your future; Being who you are is what matters not what you've done or will do.
"Challenge yourself with something you know you could never do, and what you'll find is that you can overcome anything."
– Anonymous
Meaning : Try to go beyond your comfort zone and see how far you can go and what more you can do.
"If you cannot do great things, do small things in a great way."
– Napoleon Hill
Meaning : Most of the time, it seems that we cannot achieve great accomplishments . But the other way around, we can accomplish small things to the best of our abilities.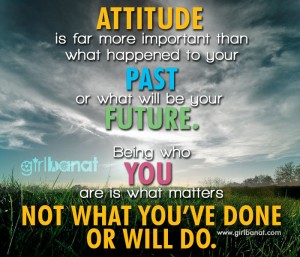 "Do not let what you cannot do interfere with what you can do."
– John Wooden
Meaning : Focus on your key strengths instead of your weaknesses.
"It is never too late to be what you might have been."
– George Eliot
Meaning : Age doesn't matter when you want to pursue your goals.
"If you have built castles in the air, your work need not be lost; that is where they should be. Now put the foundations under them."
– Henry David Thoreau
Meaning : A goal that exists only in your mind is not meaningless. Use it to realize what you want to be.
"You miss 100% of the shots you don't take."
– Wayne Gretzky
Meaning : If you don't try, you will never know if you will succeed.
"You make a living by what you earn; you make a life by what you give."
– Anonymous
Meaning : Your earning satisfies your living. But the the value of your life has nothing to do with it; it is determined by what you give to others.
"If opportunity doesn't knock, build a door."
– Milton Berle
Meaning : Don't wait for things to come to you; make your way to get them.
"An obstacle is often a stepping stone."
– Prescott
Meaning : Things that appear to hinder you are most likely to help you somehow.
"Luck is a dividend of sweat. The more you sweat, the luckier you get."
– Ray Kroc
Meaning : Great things happen to your life not because of fortune but because you work hard to achieve them.
"Failure is the condiment that gives success its flavor."
– Truman Capote
Meaning : For every success, it is not as sweet as what you think until you tasted the bitterness of failure.