Mother's Day Quotes & Messages
Mother's Day Quotes and Messages is a beautiful collection of quotes and messages that you can share with your beloved mothers on her special day of the year. Mother's Day has become an annual celebration of the works and worth of mothers as they endeavor to bring up their children and thereby making a substantial contribution to human society. Mother is one of God's beautiful creations. She gave us unconditional love and affection from the day we were conceived up to the last days of their lives. She provides us the support when we needed it the most and teaches us the value of life.
It's only once a year and it isn't enough to thank the woman who nurtured the person you are today. It's time to show your mother how grateful you are for having her in your life. If you are looking for the sweetest and soul-gratifying quotes and messages for your dearest Mom then you can pick from these Mother's Day Quotes and Messages. Happy Mother's Day to all of the wonderful mothers out there!
"Nobody knows of the work it makes
To keep the home together.
Nobody knows of the steps it takes,
Nobody knows-but Mother."
♥       ♥       ♥       ♥       ♥      ♥      ♥
"A mother is the truest friend we have, when trials heavy and sudden fall upon us;
when adversity takes the place of prosperity; when friends desert us;
when trouble thickens around us, still will she cling to us,
and endeavour by her kind precepts and counsels to dissipate the clouds of darkness,
and cause peace to return to our hearts." – Washington Irving
♥       ♥       ♥       ♥       ♥      ♥      ♥
"Motherhood is the toughest job in the world.
Her job has no holidays or day offs yet she doesn't grumble a thing about it.
Her profession portrays unconditional love, selflessness and sacrifice.
Therefore, I want you to relax and enjoy this day even though a single day is not enough to honor you as our mom.
Happy mothers' day!"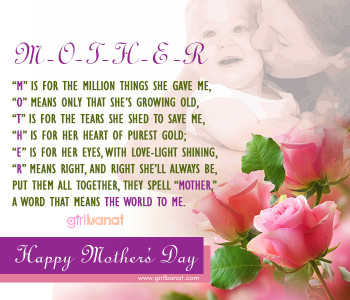 "I couldn't imagine the sacrifice that you bore when you were carrying me in your womb for nine months.
However, you choose to undergo through that pain just to bring me into this world.
I'm so thankful for this life that you gave me mom. Words could not fully describe my gratitude.
I owe my life to you so I will also spend it to love and honor you forever."
♥       ♥       ♥       ♥       ♥      ♥      ♥
"No language can express the power, and beauty, and heroism, and majesty of a mother's love.
It shrinks not where man cowers, and grows stronger where man faints,
and over wastes of worldly fortunes sends the radiance of its quenchless fidelity like a star." — Edwin Hubbell Chapin
♥       ♥       ♥       ♥       ♥      ♥      ♥
M-O-T-H-E-R
"M" is for the million things she gave me,
"O" means only that she's growing old,
"T" is for the tears she shed to save me,
"H" is for her heart of purest gold;
"E" is for her eyes, with love-light shining,
"R" means right, and right she'll always be,
Put them all together, they spell "MOTHER,"
A word that means the world to me.
♥       ♥       ♥       ♥       ♥      ♥      ♥
"My mother was the most beautiful woman I ever saw.
All I am I owe to my mother.
I attribute my success in life to the moral, intellectual and physical education I received from her." — George Washington
♥       ♥       ♥       ♥       ♥      ♥      ♥
"You light up my life like a candle in the middle of the night.
You cheer me up and make every thing alright.
No one can ever replace you.
For that, I want to say thank you and I love you Happy Mother's Day!"
♥       ♥       ♥       ♥       ♥      ♥      ♥
"Mother's love is bliss, is peace, it need not be acquired, it need not be deserved.
If it is there, it is like a blessing;
if it is not there it is as if all the beauty had gone out of life." — Erich Fromm
♥       ♥       ♥       ♥       ♥      ♥      ♥
"Your love is like the bright sunshine;
Your embrace feels so heavenly divine;
Your lullabies are sweet symphonies;
Your touch is as gentle as the summer breeze.
I love you mom!"
"The moment a child is born, the mother is also born.
She never existed before. The woman existed, but the mother, never.
A mother is something absolutely new." — Rajneesh
Let us make every day an extraordinary one not just for your Mom but for every loving mother in the world. Share your own treasured Mother's Day Quotes and Messages with us. Feel free to Contact Us and have them posted here.