Aling Dionisia Tagalog Jokes
Aling Dionisia Tagalog Jokes is a collection of jokes about Aling Dionisia. She became famous for having Manny Pacquiao as her son who is a renowned boxing champion. Her popularity has been a subject to funny jokes and humourous lines involving the way she utter words or react to something. And these funny jokes has made their way in the social media networks and mobile world.
You may have heard or read some of these jokes and you want more that will surely make your day. Read through our Aling Dionisia Tagalog Jokes:
ANAK
Aling Dionisia:  Gusto ko naman pag nagka-anak kayo uli ni Jinky, di lang pangalan nyo pagsasamahin. Dapat kasali din pangalan ko.
Manny: Oo naman nay, kasu midyu mahirap yun.
Aling Dionisia: Hindi ah, may naesep na nga ako eh.
Manny: Talaga 'nay? Anu?
Aling Dionisia: DIOMANJI (dionisia-manny- jinky)
SHADES
Aling Dionisia: Inday, akina nga yung seeds ko.
Inday: Bakit po magtatanim po ba kayo?
Aling Dionisia: Anung magtatanim sinasabi mo? Nasiselaw mga mata ko kaya kailangan ko yung seeds
WISH
Genie: Bibigyan kita ng isang kahilingan.
Aling Dionisia: Talaga?…Gusto ko gumanda!
Genie: Buksan mo ang bote.
Aling Dionisia: At gaganda na ako?
Genie: Hindi, babalik na lang ako,  magtitiis sa loob at
mag-aantay ng bagong makakapulot ng bote.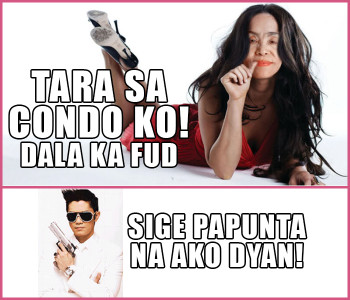 SOFTDRINKS
Sa Las Vegas
Waiter: May I take your order, Madam?
Aling Dionisia: Soup
Waiter: Chicken, asparagus, noodle, fish or soup of the day?
Aling Dionisia: Soup drenks!
BRACE
Dionesia: Doc gusto ko magpalagay ng breast.
Doctor (gulat) magpapasexsi ka na?
Dionesia: Breast sa ngipen ba. Para umayos yun ngepen ko! Deba uso yon?
PAYABANGAN
Sa isang susyaling salon:
Gretchen B.: "i want my hair dyed jet black, cut it short and then treat it with lots of keratin extracts."
Aling Dionisia: "i want my hair dyed gold, curl it to the fullest level then implant 1 diamond at the tip of every strand."
Taob!! haha! Bentang-benta si Aling Dionisia.
USA
'you is!'
'you is!'
'you is!'
-sigaw ni aling dionisia pgdating sa Amerika. Andito na aq sa 'you is!'
If You have your own version of Aling Dionisia Tagalog Jokes, feel free to share it with us. We will be happy to have them posted here. Just Contact Us.