Sad Love Quotes and Messages
       Sad Love Quotes and Messages is a collection of love quotes intended to reflect your emotions and somehow ease the pain that you are going through right now. They say love hurts but that's not true. It's the heartbreak that hurts and the sound of it is deafening and shatters the heart. After loving a person still they chose to break your heart and it really hurts to realize that the people you thought you'd love for your whole life don't love you as much as you thought they did and can do without you as if they never knew you at all. But sometimes you have to forget what you feel and remember what you deserve.
Almost everyone has suffered painful and sad when falling in love but the good part is that time heals all wounds. Let yourself bounce back and stop blaming yourself for relationship that didn't work out. Put an end to your grief with these Sad Love Quotes and Messages :
People say never give up, but sometimes giving up is the best option because you realize you're just wasting your time.
♥      ♥      ♥      ♥      ♥      ♥       ♥
Goodbyes will always hurt, pictures will never replace having been there, memories good or bad will bring tears and words can never replace feelings.
♥      ♥      ♥      ♥      ♥      ♥       ♥
When someone treats you as only an option, help them narrow their choices by removing yourself from the equation. It's that simple.
Be with someone who knows exactly what they have when they have you. Not someone who only realizes once they've lost you.
♥      ♥      ♥      ♥      ♥      ♥       ♥
Someday you'll cry for me like I cried for you; someday you'll miss me like I missed you; someday you'll need me like I needed you; someday you'll love me, but I won't love you anymore.
♥      ♥      ♥      ♥      ♥      ♥       ♥
Breaking up is like having the worst nightmare after having the best dream.
♥      ♥      ♥      ♥      ♥      ♥       ♥
Sometimes you just have to accept the fact that things will not go back to the way they used to be.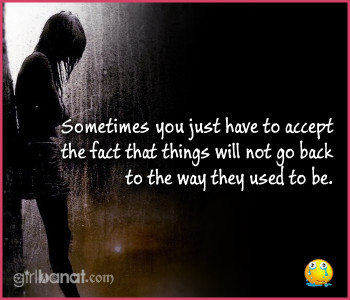 It's hard to wait around for something you know might never happen, but it's even harder to give up when it's everything you want.
♥      ♥      ♥      ♥      ♥      ♥       ♥
Everyone in life is going to hurt you, you just have to figure out which people are worth the pain.
♥      ♥      ♥      ♥      ♥      ♥       ♥
Don't give special place to any one in your heart. Its easy to give that place but it hurts more when they don't know the value of that place.
♥      ♥      ♥      ♥      ♥      ♥       ♥
Breakups aren't always meant for make ups. Sometimes relationships end in order for you to wake up.
♥      ♥      ♥      ♥      ♥      ♥       ♥
Life doesn't hurt until you have time to yourself to think about how things have changed, who you've lost along the way, and how much of it is your fault.
♥      ♥      ♥      ♥      ♥      ♥       ♥
Sometimes you have to stop trying with some people. If they care, they'll make an effort.
♥      ♥      ♥      ♥      ♥      ♥       ♥
Everyone wants happiness, no one wants pain, but you can't make a rainbow without a little rain.
♥      ♥      ♥      ♥      ♥      ♥       ♥
Inspire more readers. You can share your own Sad Love Quotes and Messages with us. We will be glad to have them posted here. Just Contact Us.