Wedding Love Quotes and Messages
Wedding Love Quotes and Messages is a beautiful collection of wedding quotes that you can use to express your love on your most special day of union. Wedding could be one of the most memorable ceremonies where two hearts that beat as one are united in marriage. For many, this big day entails long preparation to make it one of the most unforgettable day for a couple. Every woman wish for this special day where she would walk down the aisle with her beautiful wedding dress carrying a bouquet of flowers.
But wedding is more than offering your solemn vow to be a faithful partner in sickness and in health, in good times and in bad, and in joy as well as in sorrow. It's the crucial start of an everlasting journey of marriage. Remember that you will marry a person because of love and you want to spend the rest of your life with him/her. So keep the spark alive. Here's a selection of Wedding Love Quotes and Messages that you can share on your wedding day:
Soulmates…
two halves of the
same soul
joining together in lifes journey
~ Anonymous ~
♥      ♥      ♥      ♥      ♥      ♥      ♥
Once in awhile,
Right in the middle of an ordinary life,
Love gives us a fairy tale.
~ Anonymous ~
♥      ♥      ♥      ♥      ♥      ♥      ♥
We seek the comfort of another.
Someone to share and share the life we choose.
Someone to help us through the
neverending attempt to understand ourselves.
And in the end,
someone to comfort us along the way.
~ Marlin Finch Lupus ~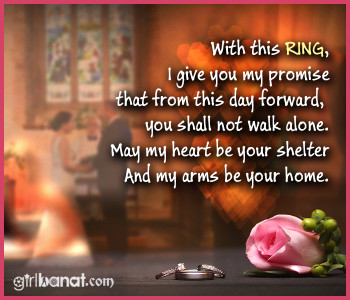 Two souls with but a single thought, Two hearts that beat as one.
~ Friedrich Halm ~
♥      ♥      ♥      ♥      ♥      ♥      ♥
There is no more lovely, friendly and charming relationship, communion or company
than a good marriage.
~ Martin Luther ~
♥      ♥      ♥      ♥      ♥      ♥      ♥
You know you're in love when you can't fall asleep
because reality is finally better than your dreams.
~ Dr. Seuss~
♥      ♥      ♥      ♥      ♥      ♥      ♥
Marriage is the golden ring in a chain whose
beginning is a glance and whose ending is Eternity.
~ Kahlil Gibran ~
♥      ♥      ♥      ♥      ♥      ♥      ♥
With this ring,
I give you my promise that from this day forward,
you shall not walk alone.
May my heart be your shelter
And my arms be your home.
~ Anonymous ~
♥      ♥      ♥      ♥      ♥      ♥      ♥
Come live with me, and be my love,
And we will some new pleasures prove
Of golden sands, and crystal brooks,
With silken lines, and silver hooks
~ John Donne ~
♥      ♥      ♥      ♥      ♥      ♥      ♥
A part of you has grown in me. And so you see, it's you and me together forever and never apart, maybe in distance, but never in heart.
~ Anonymous ~
♥      ♥      ♥      ♥      ♥      ♥      ♥
The spaces between your fingers were created so that another's could fill them in.
~ Anonymous ~
♥      ♥      ♥      ♥      ♥      ♥      ♥
I dreamed of a wedding of elaborate elegance,
A church filled with family and friends.
I asked him what kind of a wedding he wished for,
He said one that would make me his wife.
~ Anonymous ~
♥      ♥      ♥      ♥      ♥      ♥      ♥
You don't marry someone you can live with – you marry the person who you cannot live without
~ Anonymous ~
We are, each of us angels with only one wing;
and we can only fly by embracing one another.
~ Luciano de Crescenzo ~
You might have long kept more Wedding Love Quotes and Messages. Feel free to share it with us. We will be happy to have them posted here and inspire more readers. Just Contact Us.